Movable Type Projects
---

In 1985, a largely-forgotten library of 72,000 volumes of Romantic-era literature was rediscovered in a castle in northern Germany, offering the opportunity of new insights into late 18th & early 19th century writing.
Sheffield Hallam University embarked on a project to research the women's English-language part of the library, using the World-Wide Web to disseminate the results.
They asked for my involvement when they found that maintaining catalogue details for over 1,000 works by 420 authors was unsustainable using static-html pages – what should have been similar pages were presented in different styles, and with different content, and broken links were multiplying. And that was before they even started linking in research papers and other supporting material.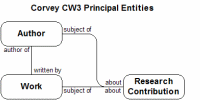 Working closely with the research team, I recognised that the large quantity of web pages concealed a quite simple, regular structure of information – authors wrote books, and research was about either a book or an author – and would hence be a good candidate for a database-sourced website.
I proposed they use Macromedia Cold Fusion to create the website, and developed 'template' pages for authors, books, and research contributions. Navigation into the material was through a combination of alphabetic index and sophisticated search tools.
Using a database-sourced website offered a number of advantages over plain html:
a regular, consistent website structure – making it easier for users to know where they were in the website and how to get to where they wanted to be
sophisticated database search tools (books published between given dates, etc)
ease of maintenance (database validation tools, no html skills required)
no broken links (all links are automatically generated)
The result is a large, complex website – some 2,000 pages – that's easy to use, as well as easy to maintain and develop.
There is an 'introductory tour' which introduces the site and the facilities it offers. If you would like to know more about the conception and implementation of the project, have a look at presentation I made to the InfoDesign 2000 conference (PDF format).